FOOD BOX DISTRIBUTION PROGRAM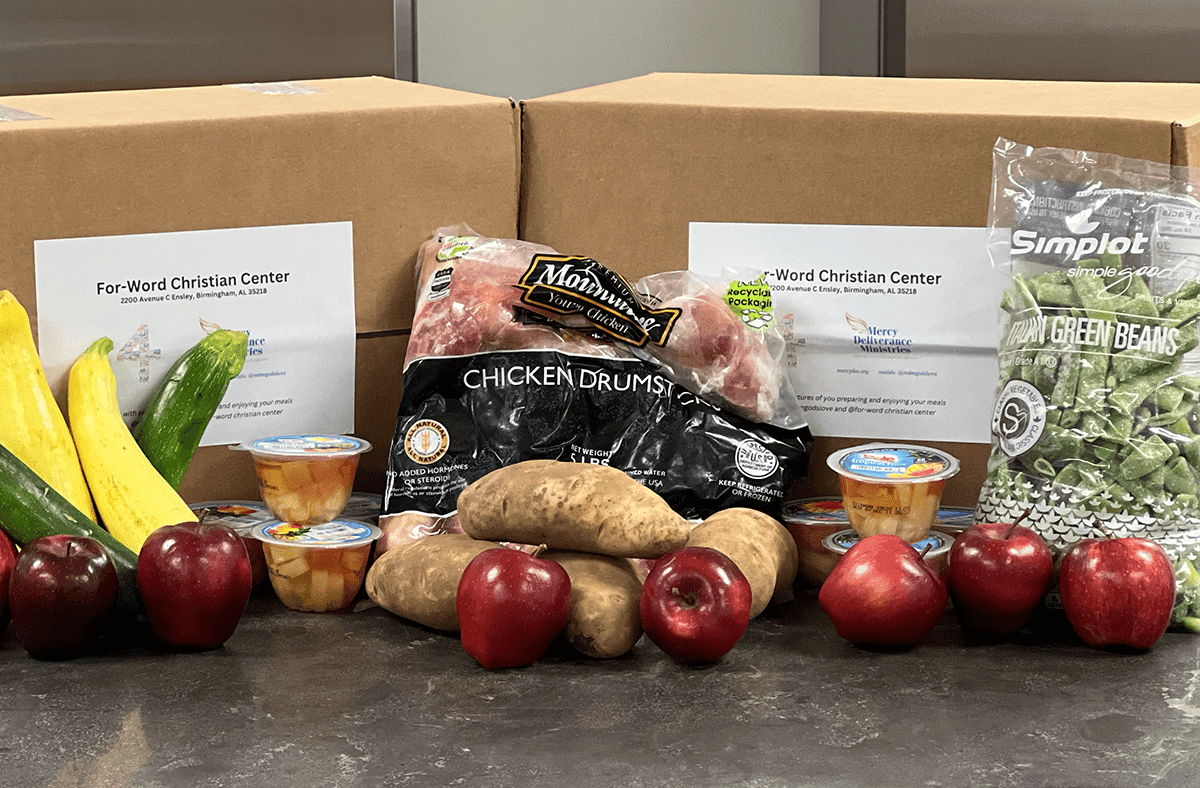 MDM distributes free healthy food boxes as part of a weekly program in Birmingham neighborhoods that are classified as food deserts (communities that do not have easy access to supermarkets). See below for food box distribution dates for 2023.
2023 FREE FOOD BOX DISTRIBUTION SCHEDULE
All Start Times are @ 3:30 PM
———-
Location: For-Word Christian Center (the former Southern Family Market) 2200 Avenue C, Ensley, Birmingham, AL 35218
———-
Tuesday, January 10th
Thursday, January 19th
Tuesday, February 14th
Thursday, February 16th (No Distribution)
Tuesday, March 14th
Thursday, March 23rd
Thursday, April 6th
Thursday, April 20th
Tuesday, May 9th
Thursday, May 18th
Tuesday, June 13th
Thursday, June 22nd
Tuesday, July 11th
Thursday, July 20th
Tuesday, August 8th
Thursday, August 17th
Tuesday, September 12th
Thursday, September 21st
Tuesday, October 10th
Thursday, October 19th
Tuesday, November 7th
Thursday, November 16th
Tuesday, December 12th
(Last Distribution of the Year)
MOBILE GROCERY STORE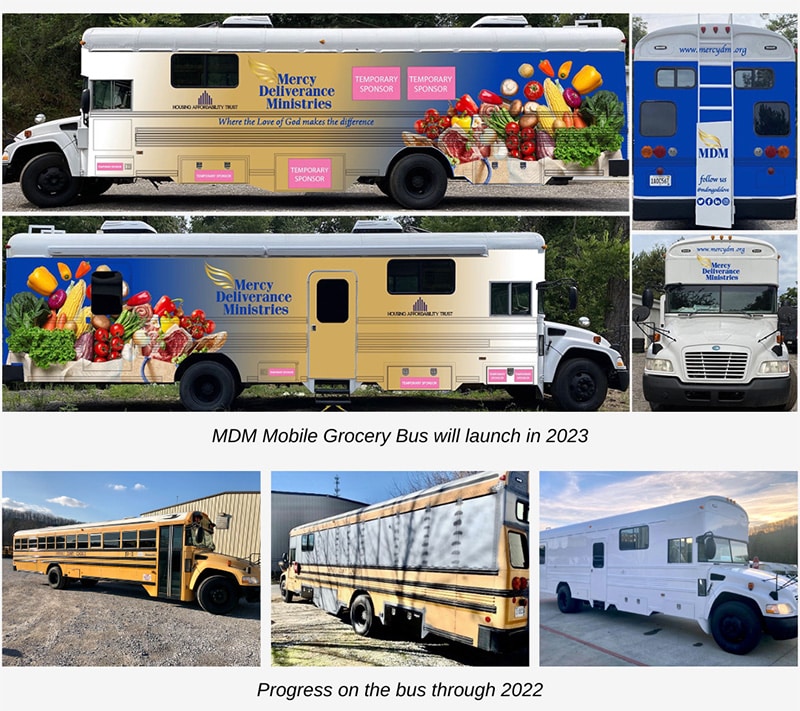 The upcoming completion of the MDM Grocery Bus will give others the opportunity to purchase groceries at a reduced price. The full service mobile grocery store will travel throughout the state to provide discounted grocery shopping to underserved communities. We cannot wait to share with you all that God has packed into this space to serve His people!
Schedule coming soon!
VOLUNTEER OPPORTUNITIES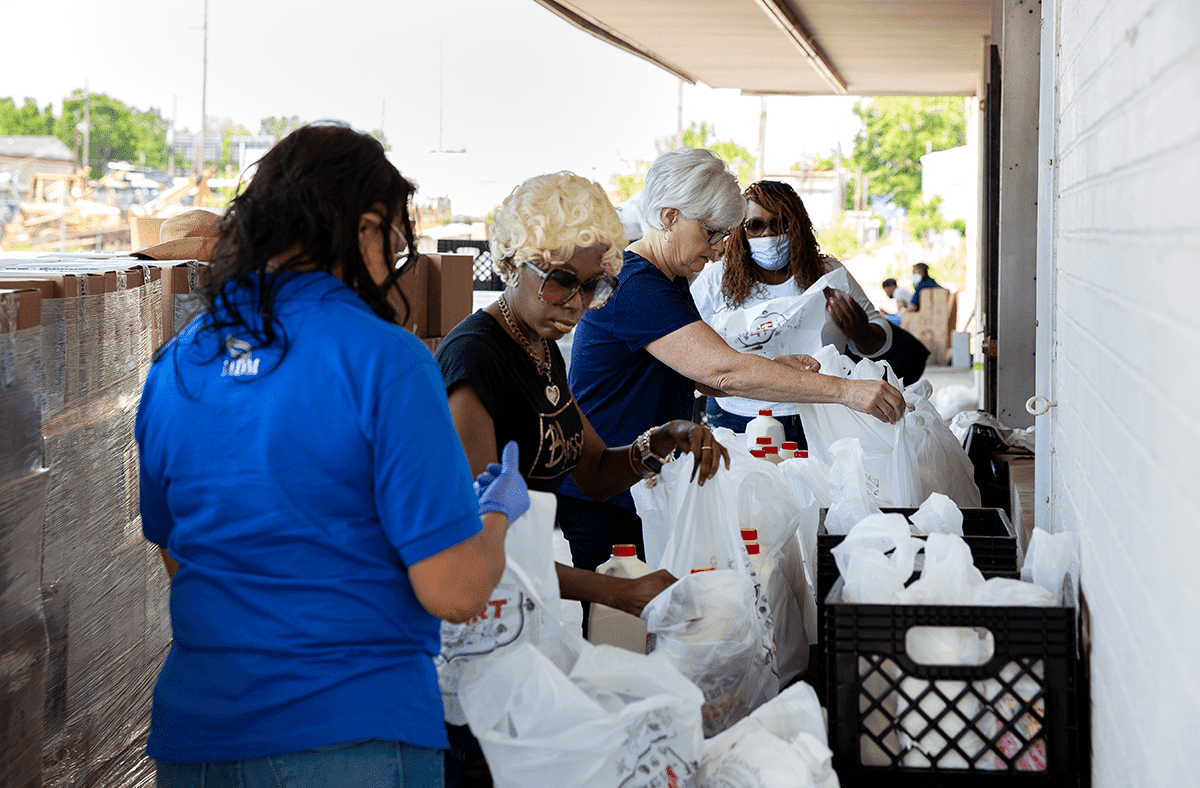 Do you want to be part of something bigger than yourself? Be a part of Mercy Deliverance Ministries' upcoming projects. Join the best team of volunteers ever! Help provide fresh food options and health and wellness services to those in need.
VOLUNTEER OPPORTUNITIES
2nd Tuesdays in Ensley
3rd Thursdays in Hoover
3rd or 4th Thursdays in Hoover
Assembly of MDM's Homeless Care Packages (schedule varies)
SUPPORT US
We invite you to join the MDM community. Let's work together to provide access to fresh food and quality healthcare to those in need. Together, we truly can make a change in our communities and throughout the world.